SHIP-BUILDING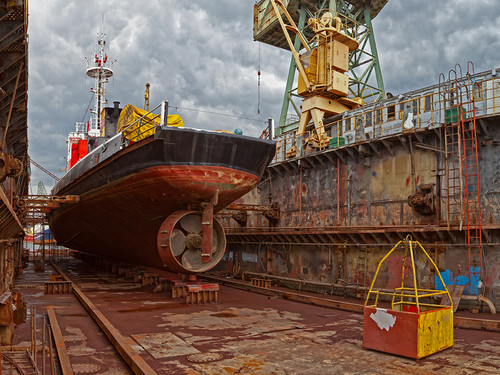 Equipement designed and manufactured by PROTEM can be used within tight spaces and restrictive environments.
PROTEM equipment are used within the shipbuilding industry for the manufacturing as well as the repair of ships.
PROTEM offers a very large range of machines and tools to meet any application requirements for both the military (submarines, aircraft and carriers) and private sectors (cargo ships, ferries, passenger liners,etc) of the industry.
Our equipment is known for quality, ease of use, lightness, reliability and their varied capabilities.
They provide great gains in productivity and ensure perfect quality of welded assemblies.
PROTEM machines are used in the repair of diesel motors because of their boring stroke and the quality of the machining finish. Thus they extend the duration of the life of the motor increasing savings and profits.
SM8 Tube facing & beveling machine with pneumatic drive

8 mm (0.31") ID
32 mm (1.26") OD

S18 - Tube beveling machine with pneumatic drive

14 mm (0.55") ID
42 mm (1.65") OD

US40 - Tube & Pipe Chamfering Machine with pneumatic drive ID locking beveling machine

43 mm (1.69") ID
273 mm (10.75") OD

SE2T - Facing machine for tubes, fittings, micro fittings and elbows

3 mm (0.12") ID
60.3 mm (2.37") OD

US25CH - Tube and pipe beveling machine with pneumatic drive 730 W

12.5 mm (0.49") ID
120 mm (4.72") OD

US30CH - ID mount beveler with pneumatic drive for boiler tubes

32 mm (1.26") ID
168.3 mm (6.63") OD

SE90NG - Tube squaring and beveling machine with pneumatic drive

10 mm (0.39") ID
90 mm (3.54") OD

TTSNG168 - Clamshell Cutting & Beveling machine-Pipe Cold Cutting Machine for pipes from 88 to 168 mm

88.9 mm (3.50") ID
168.3 mm (6.63") OD

TTNG-HD219 - Clamshell Cutting & Beveling machine-Pipe Cold Cutting Machine for pipes ranging from 4" to 8"

114.3 mm (4.50") ID
219.1 mm (8.63") OD

XP600 Portable Equipment for Facing Flanges and Valves

0 mm (0.00") ID
600 mm (23.62") OD

TU200 Flange & Valve Facing Equipment. Portable lathes for sealing surfaces, flanges and bores

0 mm (0.00") ID
200 mm (7.87") OD

UG1 - Tungsten Electrode Sharpener & Grinder




FBB2-6 Elbow Bench Beveling Machine

60.3 mm (2.37") ID
168.3 mm (6.63") OD

OCM - Orbital Cutting and Beveling Machine for Tubes and Pipes - Pipe Cutter

168.3 mm (6.63") ID
3048 mm (120.00") OD

FBB1-3 - Elbow Bench Beveling Machine

33.4 mm (1.31") ID
88.9 mm (3.50") OD

US3 - Orbital Tube Cutting Saw for Ø from 0.196" to 3.5"

5 mm (0.20") ID
88.9 mm (3.50") OD

US6 - Orbital Tube Cutting Saw for Ø from 0.5" to 6"

12.7 mm (0.50") ID
168 mm (6.61") OD