PIPE FACING MACHINES (PFM Series)
For your oil and gas engineering and construction projects
PFM-414 - Pipe Facing Machine PFM for Ø ranging from 4" to 14"

101.6 mm (4.00") ID
355.6 mm (14.00") OD

PFM-1222 - Pipe Facing Machine PFM for Ø ranging from 12" to 22"

323.9 mm (12.75") ID
558.8 mm (22.00") OD

PFM-1030 - Pipe Facing Machine PFM for Ø ranging from 10" to 30"

273.1 mm (10.75") ID
762 mm (30.00") OD

PFM-3038 - Pipe Facing Machine PFM for Ø ranging from 30" to 38"

762 mm (30.00") ID
965 mm (37.99") OD

PFM-3848 - Pipe Facing Machine PFM for Ø ranging from 34" to 48"

965 mm (37.99") ID
1219.2 mm (48.00") OD

PFM-4656 - Pipe Facing Machine PFM for Ø ranging from 46" to 56"

1168.4 mm (46.00") ID
1422.4 mm (56.00") OD

PFM-5464 - High Speed Bevelers for pipes ranging from 54" to 64"

1371.6 mm (54.00") ID
1625.6 mm (64.00") OD

PFM-6272 - Pipe Facing Machine PFM for Ø ranging from 62" to 72"

1574.8 mm (62.00") ID
1828.8 mm (72.00") OD
Design for Many applications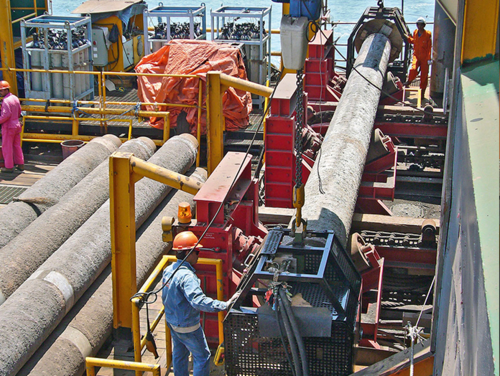 The PFM are the pipeline machinery equipement you will need for all your pipeline projects! They drastically increase your productivity.
The PFM serve all industries where the weld quality is critical and projects must stay on schedule. The machines are easy to install and quickly adjustable to any size within the machine's range.
ID mount Pipe Facing Machines (4''-72'')
Protem Pipe Facing Machines are used for :
Machining pipes on all materials : Mild steel, stainless steel, exotic alloys such as incoloy, astelloy, duplex, super duplex, copper, etc.
Producing repeatable high quality surface to increase the final quality of the welded assembly.
Perform narrow-gap on heavy wall pipe up to 60 mm with the aim of reduction of the amount of weld metal used and increase the productivity due to the decrease in welding times.
In addition to typical bevels, Pipe Facing machines are capable of I, V, J, X shape or compounded bevels, counterboring and deep counterboring.
.
Main Advantages of the Pipe Facing Machines
Possibility to perform quality bevels up to 60 mm.
Highest production rate.
Improved weld quality.
Reduced weld volume.
Easily transportable - can be fixed on the ground.
Perfect weld end preparations.